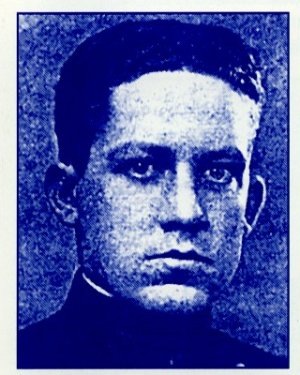 William D. Thomas was born in Wilkesbarre, PA, in 1904. He graduated from the U.S. Naval Academy at Annapolis in 1928. His first assignment was to serve on the USS WEST VIRGINIA (BB 48) until 1930 when he entered the submarine service and served on several submarines until 1915. He served on two other destroyers, the USS CLAXTON and the USS MANLY, prior to taking command of the USS HOEL when it was commissioned in June 1943. In August 1944, Captain Thomas was promoted to the rank of Commodore and was assigned as Screen Commander of Task Force 77.4.3 and remained aboard the HOEL as his flagship. He was seriously wounded in the Battle Off Samar when the HOEL was sunk. He was hospitalized until February 1945.

Commodore Thomas was awarded the Navy Cross, second only to the Medal of Honor, and the Purple Heart for his wounds. The unit was awarded the Presidential Unit Citation for the engagement.

After Release from the hospital he was assigned as Commanding Officer Naval Air Station, St. Simons Island, GA. He retired from the Navy as Rear Admiral in 1947. He joined the faculty of Cogswell College upon retirement from the Navy, and at the time of his death in 1968, he was Vice President and Dean of Men for the college.

Admiral Thomas was married to Elizabeth Bolles, had a daughter, M. Carol Hartl, and two granddaughters. He also had two brothers, Leroy and Emerson Thomas of Pennsylvania.

* * * * * * * * * * * * * * * * * * * * * * * * * * * * * * * * * * * * * * * * * * * * * * * * * * * * ** * * *

NAVY CROSS CITATION

For extraordinary heroism as Screen Commander of Destroyer and Destroyer Escorts screening an Escort Carrier Task Unit, during action against major units of the enemy Japanese Fleet, in the Battle off Samar Island, Philippine Islands, on 25 October 1944. When a formidable column of Japanese battleships, cruisers and destroyers attacked our small Task Unit of Escort Carriers, Captain (then Commander) Thomas closed on the hostile disposition, deploying his small force between the enemy and the lightly armed and armored carriers and brought his light caliber guns to bear upon the rapidly advancing hostile Fleet units. By a skillfully organized torpedo attack, launched at short range, he succeeded in delivering a series of crippling blows, despite continuous fire from heavy caliber enemy guns, and contributed materially to the victorious conclusion of this historic battle. His courage, leadership and devotion to duty were in keeping with the highest traditions of the United States Naval Service.