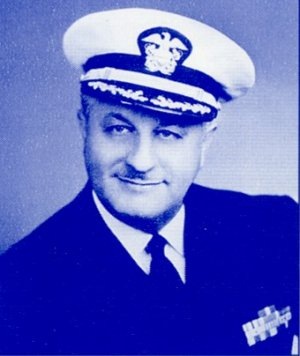 Admiral Leon S. Kintberger was born in Zanesville, Ohio in 1910. He attended Baltimore Polytechnic Institute and John Hopkins University before graduating from the U.S. Naval Academy at Annapolis in 1932. Four years later he earned the distinction of being the first of his Academy class to command a destroyer, the USS Evans and began a long and honored career as a skipper in the surface/line navy.



Early in World War II he commanded destroyers in the Atlantic on convoy and anti-submarine operations. In August 1944 he took command of the USS HOEL and led a destroyer division into action off Samar Island in the Battle of Leyte Gulf. With enemy battleships and heavy cruisers attempting to destroy the U.S. aircraft carriers and retake Leyte.



Commander Kintberger, sailed his ship into harms' way. Although the HOEL took over 40 hits from the 18", 16". 14" and 8" inch guns of the Japanese battleships and cruisers before it sank, this heroic and gallant act helped to force the Japanese to retreat. Commander Kintberger received the Navy Cross, second only to the Medal Of Honor, and the Purple Heart for his role, and his ship was awarded the Presidential Unit Citation.



Shortly after the Battle Off Samar, he was assigned to take command of the USS ZELLARS doing picket duty at Okinawa. The ZELLARS shot down sevem kamikazes before being hit and damaged. For this action he was awarded the Silver Star. He retired from the Navy in 1959 with the rank of Rear Admiral.



In 1912 Ensign Kintberger married Dora Legum of Annapolis, they had one daughter, Suzanned Periman, three grandchildren, Michael, Amy and Beth. Captain Leon S. Kintberger died in 1983 - at the age of 73.


****************************************************************************************************

We are sorry to announce the passing of the widow of Leon S. Kintberger, Captain of the USS Hoel during the Battle of Leyte Gulf. Dora L. Kintberger, died on October 5, 2005, at the age of 96. She was a true Navy wife during the 51 years of their marriage.