Glenn Parkin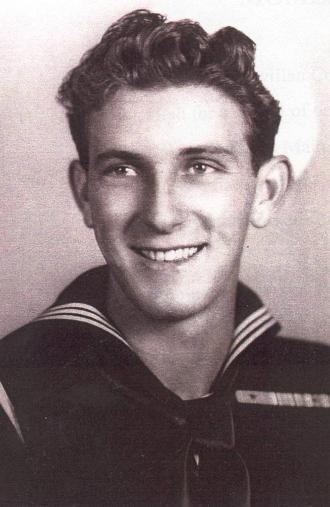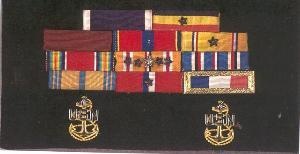 EDITOR'S NOTE:

When one reads an account of a survivor, it is usually an interesting story and one that most people never comes close to experiencing. This is also a very interesting account of a SURVIVOR, but a survivor several times over.

Following is an account of the naval career of Glenn H. Parkin.
I first came to know Glenn in early 1945 following the sinking of USS HOEL and USS JOHNSTON in the Battle Off Samar, Philippine Islands on 25 October 1944. Glenn a survivor of USS HOEL and I, a survivor of USS JOHNSTON.
Following our survivor's leave, a number of survivors not only from HOEL and JOHNSTON but also of USS SAMUEL B. ROBERTS, USS GAMBIER BAY and USS ST. LO were transferred from Treasure Island in San Francisco to Bremerton, Washington for further assignment.

The numbers were split and most of us were assigned to two bases near Bremerton, Naval Ammunition Depot, Bremerton and Bangor Ammunition Depot near Bremerton. That's when I became acquainted with Glenn Parkin. We, along with a number of others were assigned to NAD Bremerton.

Glenn and I both had experience working in a laundry aboard ship and we learned that a laundry was being constructed on the NAD Base. We both applied for duty in the laundry and were both accepted. Glenn, who had more experience than I and had been in the Navy longer was placed in charge and I as his assistant. The duty was good and the friendships among the HOEL and JOHNSTON survivors developed and became strong.

Not long after this time, Glenn's fairly new bride, Clarie came from Utah and joined Glenn in Bemerton . After the usual wait, they were allowed to rent one of the Government apartments and it became a regular stopping place for a number of us. Clarie went everywhere we went and might be the only female in the group but her honor would have been defended by any of us had the need ever arisen. It would have been a bad mistake in judgement had anyone ever made any insulting remarks to or about Clarie.

Due to Glenn's past experience in the Navy, he had been given the nickname of "Cruiser". The name seemed to be appropriate and fit him so we all called him Cruiser.

I now invite you to come aboard and take a "cruise" with "Cruiser". It will be the likes of which very few people have even imagined and fewer yet who have been able to experience.

This is his story. Enjoy the parts that are good and endure the parts that are bad but keep in mind that Glenn H. Parkin was there and experienced things during the many historical events that few other people can claim to have been a part of.

Bill Mercer

By: Glenn Hatch Parkin

TO ALL WHO READS THESE MEMORIES.

Enjoy as if it were a Personal Adventure.

FOR THOSE WHO FOUGHT FOR IT FREEDOM HAS A FLAVOR THE PROTECTED WILL NEVER KNOW.

Historical Account of Glenn H. Parkin

MOMENTS TO PONDER

I enlisted in the Civilian Conservation Corps (CCC) July 5, 1939, at Bountiful, Utah for a period of one year. I was discharged June 29, 1940. Camps that I was assigned to were the Main Camp Co., 940, Camp F-48, Bountiful, Utah, Spike camp F-49, Farmington Canyon, Farmington, Utah and Camp F-6, Kamas, Utah. I performed the duty of Student Cook.

The summer of 1940 was very difficult for young men with no work and no experience. I wished I were back in the CCC.

On February 14, 1941, I enlisted in the U.S. Navy for six years - not knowing that a long adventurous experience awaited me.

On May 6, 1941 after boot camp in San Diego, California, I boarded the heavy cruiser, USS NORTHAMPTON, the proudest person in the whole world! I was embarking on a life with many experiences, some good and some bad, but for now it was great!

In the summer of 1941 there were many sea maneuver and gunnery practices. About July 15, the heavy cruisers USS SALT LAKE CITY and USS NORTHAMPTON headed south. We found out in due time that we were on convoy duty for a Dutch freighter, the JAGGERSFONTEIN. This ship had supplies for the Flying Tigers in China (General Chennault). But, the most important event was that we were going across the equator. This ceremony aboard a U.S. Navy ship is hell and great at the same time. What a wonderful experience for a young man!

We finally discharged our convoy and headed to Brisbane, Australia for a wonderful four days, then back to Pearl Harbor via Port Moresby, New Guinea and Rabaul, New Britain finally crossing the equator and the International Date Line at the same time. We received a certificate for crossing the equator (Imperivm Neptuni Regis) and one for crossing the equator and the 180th Meridian at the same time (The Golden Dragon, referred to as the Golden Seal Shellback).

Back at Pear Harbor and more maneuvers and gunnery practice. My gunnery station assignment was," rammer" in an 8" gun turret. What a smooth operation fire, depress, re-load the guns and ready to fire again, all in 9 seconds. Each turret has 3 - 8" guns.

I received a letter from home: My father arrived at Pearl Harbor August 10 for work in the ship yards. It will be good to see him.
The sailors in the Pacific Fleet were well aware of the feelings between the United States and Japan. We were all very much concerned; however, most of us felt that we were ready.

About November 20, 1941, I with about ten others, were transferred to Barbers Point Small Arms and Anti-Aircraft Firing Range School. The Carrier USS ENTERPRISE got underway that morning. I felt that we would miss the next 2 weeks of maneuvers but this was the case as I learned later. The task force went to Wake Island to deliver planes and to scout the area for Japanese war ships. The task force arrived back in Pearl Harbor on the day following the raid on Pearl Harbor.

Back at gunnery school, we saw some very fine AA guns: the 20 mm and 40 mm and the British Pompom 1.1. The 1.1 was later constructed aboard the Northampton.

The morning of the 7th of December was a lazy Sunday morning. I was on my way to chow when the attack started. We really did not know what was happening, for we could not see Pearl Harbor, although we were only about four to five miles away. We could see some of the planes and smoke. The marines at the school got some fifty caliber guns firing but that was all. About 1000 hours, we were bussed to Pearl. My God what a sight! We were put on work details for fire fighting and helping where we could.

I Finally made my way over to the maintenance shops where my father worked but no one had seen him. I didn't know, it could have been his off shift - I hoped so.

We were all dead- tired that evening when it got dark. I just stayed where I was that night. We heard small arms firing: really did not know what to do, except stay where we were.

December 8 was a bright sunny morning. I felt good about being alive but still had the empty feeling inside of me. Then someone said the Nora ( Northampton) was coming into port. It was a good feeling seeing the task force again; we had heard that it had also been sunk along with all the rest of the destruction.
I was back aboard ship within the hour. Then the work started resupplying all stores and ammunition. Back at sea the next morning heading east by southeast - could it be Panama? Expecting an attack there? We never knew for two weeks.


The next time out of Pearl, the task force headed south for Marshall and Gilbert Islands. The heavy cruisers, USS CHESTER, USS SALT LAKE CITY and USS NORTHAMPTON shelled a naval shipping base and air field on Wojie Island. The carrier planes were bombing the other islands. This constituted the first offensive strike against our enemy, Japan, for the U.S. Navy, February 1, 1942.
From this time on we made air and shelling raids on the enemy; also received many air raids ourselves, with some damage to our Task Force. My thinking on this was to let the Japanese Government realize that they had not destroyed the entire Pacific Fleet by bombing Pearl Harbor.


Air action off Bouganville Islands, February 20, 1942; Wake Island raid February 24, 1942, Marcus Island raid 900 miles southeast of Japan, March 4, 1942.
On about April 5, at sea heading west. We rendezvoused with another task force; a large carrier (USS HORNET), many cruisers and destroyers. Something did not look right, for the HORNET had large planes aboard. What did this mean? Later the scuttlebutt aboard was that we were taking the planes (B-25's) To Russia. How were we going to break through the Japanese Defense? This gave us many hours of anxious thought. Admiral Halsey finally told us that we were taking the planes to bomb Japan. Now, how are they going to get the planes off the carrier? We could hardly believe our eyes when we saw the planes take off the HORNET. What a sight! When the planes were all air borne, we headed to Pearl Harbor as fast as the slowest ship would allow, for we were within bombing range of the Japanese land bombers and were expecting them at any time. But to our good fortune, none came (April 18, 1942) - 16 B 25's)
Arriving back at Pearl Harbor in time to resupply and make a fast run down to the south Pacific to help out in the Coral Sea engagement (sinking of the carrier USS LEXINGTON) , May 4-8, 1942. We did not get there in time to help. So back to Pearl Harbor and dry dock which we needed badly. But it had to be cut short, for something was brewing up in the Midway Island area. So as soon as a task force would come into port, it would resupply and then back to sea. The fleet now consisted of three task forces, one with each carrier which had enormous fire power.

So, to Midway, not really knowing the where abouts of the Japanese, but they were later sighted by our scout planes. The HORNET launched torpedo planes, Torpedo Squadron Eight making their runs on Japanese ships - all were shot down and only one pilot survived (Ensign Gay), what a loss. After numerous air attacks by the Japanese, the carrier Yorktown was hit and later sunk by our destroyers but the outcome of this engagement was a victory for the Pacific Fleet. June 3 - 6, 1942. Back to Pearl Harbor for a much needed rest and repairs.
Early July found us at sea again, this time with the carrier HORNET. Little did we know what was to happen next. First came the landing on Guadalcanal and Tulagi in the Solomon Islands with many night battles and the loss of many cruisers and destroyers on both sides. One night of action. The Seventh Fleet (to which we were assigned) lost five cruisers in one hours time. August 7-9, 1942, Guadalcanal/First Battle of Savo Island. Battle engagements were so close and numerous they were numbered 1 - 2 - 3 -4.


Then another big day was brewing, October 26, 1942 - bright sunny day. Our scouting planes had sighted a large Japanese task force; So we were ready for their planes. Coming out of the sun's rays about 11:00 o'clock, 85 dive bombers and torpedo planes - God what a sight! This lasted for about one hour. When the smoke cleared, HORNET had been hit and was burning and listing badly. The cruiser NORTHAMPTON took it in tow, but we could only make a few knots; and with continuous bombing attacks during the day, it was very hard to save the carrier. That night, it too was sunk by our destroyers so it would not fall prey to enemy hands - what a loss.


With the sinking of the carrier HORNET, the balance of the task force were assigned to other commands. The NORTHAMPTON was assigned to a division of heavy and light cruisers, NORTHAMPTON being the flag ship with heavy cruiser NEW ORLEANS , heavy cruiser, MINNEAPOLIS, heavy cruiser, PENSACOLA, light cruiser HONOLULU, and eight destroyers. What a power of destruction. For the next few weeks, we did a lot of shelling at night. We were not far away the night the heavy cruiser, SAN FRANCISCO was severely damaged. The anti-aircraft cruisers ATLANTA and JUNEAU were sunk and many destroyers. This was when the five Sullivan brothers were killed on the JUNEAU.

On the evening of November 29, 1942, the task force was at Espiritu Santo, New Hebrides Islands awaiting orders. We did not have long to wait; 2330 hours, we received orders to get underway. The task force left Espiritu Santo in a hurry. We had to recover the gangway ladder on the run - full speed all night and the next day. We knew something big was on. That day we pumped all of our aviation gasoline over the side (for fire prevention). Just before dark, we launched our aircraft from the cruisers (spotting aircraft) . At 2335 hours on November 30, we opened fire, all cruisers. God, what a sight, shooting near point blank. This lasted for 25 minutes then all hell broke loose. The NORTHAMPTON received two torpedoes, port quarter and immediately went into a heavy port list; burning amidships and getting worse. The skipper called for all hands that could, report to the quarter deck. This is where we abandoned ship three hours later. The ship was listing to port so much that the starboard screws (propellers) were out of the water making no headway.

Most of the men were not very far from the ship when it sank, still burning. It made us feel very, very bad - we had a lot of good memories and good times living aboard her.

We were picked up a few hours later by the destroyer FLETCHER and taken back to Espiritu Santo - and now we knew the gut feeling of the loss of a ship.
The night took it's toll. The heavy cruiser NEW ORLEANS had her bow from turret forward, blown off by two Japanese long lance torpedoes. The heavy cruiser, MINNEAPOLIS had her bow turret #1 blown off, The heavy cruiser, PENSACOLA, was hit in the stern. The light cruiser, HONOLULU, did not receive any hits. What a night - one cruiser sunk and four damaged severely. The Japanese destroyer, OYASHIO that did the damage that night was sunk march 3, 1943 by the submarine, ALBACORE.

Maybe, just maybe, this would mean Stateside and new construction!!

What a sight to see the lights of San Francisco from the sea. We arrived back on January 3, 1943. Home on thirty days survivors leave. Great to be home, even for just a short time.

This is when I married my childhood sweetheart, Clarie Platts, on January 24, 1943. Then it was on to Boston and new construction - heavy cruiser USS BOSTON, CA 69.

My wife and I enjoyed the city - New England and the east coast, New York, Washington, D.C.; it was great. The time came when we had to part, for I had more of the world to see. Trinidad Port of Spain, Venezuela, shakedown for firing practice, off the coast of New Foundland for a speed run; then back to the Pacific.

At that time I was transferred again to the destroyer, USS HOEL; but did not get aboard until we arrived at Guadalcanal some months later. Little did I know of the experience I would have on this man-o-war. The HOEL and four other destroyers were on submarine patrol most of the time. It is quite an experience tracking down a sub; and refueling from Treasure Island (Just like the book, "Treasure Island").

Little did we know that our small group of destroyers would be in on the invasion of the Philippines. But first, the Palau Islands, September 6 - 14, 1944. We were assigned escort duty for small carriers. With the air attack and the subs, it kept us on the alert. Then back to Manus Island in the Admiralty Group for rest and supplies.

The only time I had ever seen or heard of a U.S.O. tour group was then. One day Liberty - the U.S.O. show was going to start at 1200 hours; we arrived at the location around 1000 hours and received our two cans of warm , green beer. We were so far back we could hardly see their faces, but by the sound of their voices, we knew it was Bob Hope, Jerry Colona and Francis Langford. Before we could finish the beer, there was a call for all hands from our group to report aboard on the double - so much for a good time.

The next couple of days were spent grouping the task force together. We were of the Seventh Fleet under Vice Admiral Kinkaid assigned to Task Group 77.4.3. There were six CVE baby carriers, with three destroyers and four destroyer escorts. Our code name was TAFFY THREE.

Heading northwest, we knew we were in for something big, for on our way we passed many transports, LST and other landing craft. The three TAFFY groups would be air cover for the landings for the Leyte invasion. Our station was well north of Leyte, off the island of Samar. Prior to the invasion on October 20, 1944, we were in a typhoon for three days (God what a ride - our ship at that time took a 54 degree list). Nothing to eat, some sandwiches and coffee, if you could hold it down.

We had been told that the Japanese commanders would try some offensive tactics. The Japanese planned to bombard and retake Leyte with Imperial marines on board the destroyers (which they used very effectively in the Solomon Island campaign). Little did we know that the Japanese had launched three large task forces, one from the south under the command of Vice Admiral Nishimura, through Surigao Strait. They were completely annihilated. Another Japanese task force under Vice Admiral Ozawa (carrier group) came down from eastern Luzon, and Vice Admiral Takeo Kurita with a large battle group coming through the central Philippines for San Bernardino Strait.

This is the Strait that Admiral Halsey's battle force was guarding, until Japanese Admiral Ozawa broke radio silence : then our Grand Admiral Halsey went after Ozawa's carrier group. ( Admiral Ozawa did not have many planes and could not do too much destruction: this is why he broke radio silence, to draw Admiral Halsey off station, so Admiral Kurita could bring his large task group through San Bernardino Strait. Halsey did not even leave a destroyer on picket duty. What a blunder?)

(This may be of some interest) Before going to my general quarters (battle station), I knew we were going to catch hell, so I went to my locker area to meditate briefly. While there, I took two packs of cigarettes from my locker and two condoms from my wallet. Crunching in the corners of the packs and matches so they would not rupture the container, tied them to my shirt breast pockets.

When Kurita's battle group came through San Bernardino Strait on the early morning of October 25, 1944, TAFFY THREE was not very far away. Kurita's battle group consisted of the largest battleship in the world, YAMATO, 73,800 tons of destruction, with 18.1" guns. The largest guns on any navy ship could fire more than 25 miles on target. With three other battleships, six heavy cruisers, two light cruisers and eleven destroyers, this battle group started shelling Task Group 77.4.3 (TAFFY THREE) about 0630.

We could see the large shell spray when they hit the water. The shelling would come in a pattern of three or more.

When an aircraft reports back to it's carrier with bombs, there is an area in which the pilot will drop the unused weapons before landing on the carrier - for safety. We had just witnessed this many times before. At that time, we could not see any planes. The explosions were very close to the carriers.

The USS HOEL DD 533 was the flagship for the screening. So, Captain Thomas (Screen Flag Officer) gave the word to the other screening ships 180 degrees turn, flank speed. Follow me. At that time we knew we were in for some excitement, but did not know how much and how soon. We did not have long to wait.

Returning to the #2 gun mount, my assigned duties as a sight setter (this reading comes from the radar or CIC, (Combat Information Center) it gives us the distance in hundreds of yards: range, with deflection, etc.). Some of the first hits we took knocked out our radar: so after that my readings were useless, training and elevation were manual. So I traded off with the trainer (when the sweat was so bad that he could not see the targets). The HOEL started immediately making smoke screen to help shield the carriers: the destroyers and destroyer escorts approaching the enemy at flank speed. Our Presidential Unit Citation (below) explains it in a more professional way.

CITATION: For extraordinary heroism in action against powerful units of the Japanese Fleet during the BATTLE OFF SAMAR , Philippine Islands, October 25, 1944. Silhouetted against the dawn as the Central Japanese Force steamed through San Bernardino Strait toward Leyte Gulf, task Unit 77.4.3 (TAFFY THREE) was suddenly taken under attack by hostile cruisers on its port hand, destroyers on the starboard and battleships from the rear. Quickly laying down a heavy smoke screen, the gallant ships of the task unit waged battle fiercely against the superior speed and fire power of the advancing enemy, swiftly launching air craft and violently zigzagging in protection of vessels stricken by hostile armor-piercing shells, anti-personnel projectiles and suicide bombers. With one carrier of the group sunk, others badly damaged and squadron aircraft courageously coordinating the attacks by making dry runs over the enemy fleet as the Japanese relentlessly closed in for the kill, two of the units valiant destroyers (Destroyers USS HOEL and USS JOHNSTON and destroyer escort USS SAMUEL B. ROBERTS respectively) charged the battleships point-blank and expending their last torpedoes in desperate defense of the entire group, went down under the enemy's heavy shells as a climax to two and one-half hours of sustained and furious combat. The courageous determination and the superb teamwork of the officers and men who fought the embarked planes and who manned the ships of Task Unit 77.4.3 were instrumental in affecting the retirement of the hostile force threatening our Leyte invasion operations and were in keeping with the highest tradition of the United States Naval Service.

For the President
James Forrestal
Secretary of the Navy

After receiving many heavy caliber hits, the ship was dead in the water. Number two 5"38 gun was still firing until smoke coming up through the elevators was so bad we finally had to abandon the gun mount.

Upon leaving the gun mount, we realized how safe we had been, for there were dead bodies all over the deck. One gunners mate, Carl Krupp, had his leg blown off; four of us men tied a line under his arm in order to lower him over the side. At that time, we were still receiving large caliber shell hits. Another burst came through and killed Krupp and wounded others. This hit is probably the one from which I received shrapnel wounds to my legs. One of the officers said "lets get the hell off the ship." The word had been passed by word of mouth to abandon ship 20 minutes or so before we left the gun mount. Men were adrift of the ship about 250 or 300 yards aft. Prior to abandoning ship, I made a search for my friend, Phil Akerman. I went aft on the Starboard side to the vicinity of the Torpedo Locker. There were dead and wounded everywhere and I was unable to get through so was unable to find my friend, Phil. He could easily have been one of the ones that were dead and seemed to be piled on the decks. My search for Phil being to no avail, I decided to follow the officer's command of "getting to hell off the ship".

At that time I realized that I had no life jacket and went to #1 gun mount hoping one was still there - and there was. Looking out at the horizon, I thought to myself, my God what a long swim back to San Francisco. Throwing the life jacket into the water, I jumped in after it. Not swimming far, I stopped and looked back as the HOEL started to roll and sink stern first. The bow was riding high and the Japs were still hitting her with heavy shells; What a sight. Then she went under and all was quiet. I could see some men about 50 yards away, so I swam in that direction. Finally, we made it to a floater net. Some of the men were wounded badly, so we helped where we could.

Finally a friend of mine, Bill Murray from Taft, California, said "I'd give my soul in Hell for a cigarette". Then remembering that I had two packs of cigarettes. They were dry, but hard to light, as my fingers were all swollen from the water. The first drag made us sick.

Then one man said, "My God look at that", pointing in the direction of some large ships coming at us. We thought for sure they were going to run us down. There was a large amount of small arms fire, and when we first heard it, we dove over the side of the raft, going as deep as we could. (We had been told that 2 feet of water could stop a 50 caliber bullet.) But no one was reported hit. We could see the men on board the Japanese ships as they came closer - one big ship, then another and the biggest ship I had ever seen, about 75 yards away. Someone said, "My God look at that thing!" It's large guns were pointing broadside like they were aiming at us. Then someone said, "That must be the YAMATO!! (73,000 tons with 18" guns) what a piece of destruction. Along with the YAMATO, were other battleships, the NAGATO, KONGO and HARUNA; six heavy cruisers, HAGURO, CHOKAI, KUMANO, TONE, SUZUYA and CHIKUMA; Two light cruisers, the YAHAGI and NOSHIRO; and eleven destroyers. The Japanese also had ships sunk, the heavy cruiser SUZUYA, CHIKUMA and CHOKAI; and KUMANO heavily damaged by torpedoes. All were sunk with a combination of torpedoes from the destroyers HOEL and JOHNSTON and destroyer escort SAMUEL B. ROBERTS, with air attacks from TAFFY 3 planes.

Back on the raft, with the large ships going past, we could hear a planes' motor with a high pitch sound, like one in a dive, but we could not see any planes as it was overcast.

It sounded like the plane's motor was going to burst and then we saw it - a navy Gruman F6F fighter broke through the clouds with all six 50 caliber guns blazing. We were so close to the ships that we could hear the 50 caliber bullets hit the hard wood decks. The Japanese were shooting about every small gun they had. The F6F came down, straffed and was back into the clouds in less than 30 seconds. My God what a sight - with a front row seat.

After this, the Japanese ships scattered and within 10 to 15 minutes all we could see from the raft was smoke from their funnels. We hoped they didn't come back, for we had our own problems - caring for our wounded.

Later that day we contracted a life raft with just a few men aboard. In all, there were 38 severely wounded men and we did not have any medical supplies of any kind, not even morphine to help relieve the pain. One man with a crushed helmet complained of it hurting him badly. We tried to take the helmet off and when we did it started to bleed in spurts; so on it went and soon it stopped bleeding.

We did not know the time of day - it was still overcast and we could not see the sun. The wind and the waves were picking up - it was probably late afternoon. One of the men could see a small object floating about 150 to 200 feet away. Hoping it would be some sort of supplies, another man, (Charles Sampson, WT 2c) and I were not wounded as badly as some swam out to retrieve our prize - and what a prize, a large crate of potatoes! Nice, big potatoes, and boy, were we hungry. (Have you ever eaten a potato with salt on it? Well, we sure had plenty of salt - and for once it tasted very good. Just dip the potato in the water and take a bite!)

As night came, we wondered what was in store for us. Well the wind grew stronger, the waves higher. On the high waves we could see lights not too far away, but we did not know who they belonged to. We struggled through the night (one of my good friends, Erling Husvik, and I would take turns holding each other's head out of the water in order to catch a wink or two). Hell, what a night. Not knowing we had more to come.

The next morning at daybreak, there were three men dead, and we wondered who would be next. During the night we lost the potatoes (we had nothing to lash it to the raft).

Then as the sun got brighter, we were attacked by sharks - seemed like hundreds; God there were a lot of them. They would swim along side the floater net and we could grab a hold of their dorsal fin, but could not hold on. We even tried to stick a knife in their back with no luck. We lost two men to them. One man said that he would get the bastards, and with a knife in his mouth, jumped over the side. That was the last we saw of him, although we could see the turbulence of him and the shark - with lots of blood, but that was all.
So that is how we spent the next fifty two hours. It was hot in the day time and cold at night, so cold we had to stay in the water to keep warm.
We were finally picked up by a US Patrol Boat and taken back to Leyte Gulf. Two days later we were on an L.S.T. for Hollandia, New Guinea; then aboard the SS Lurline, a Matson Liner. San Francisco, here we come! I didn't have to swim all that way after all!

We didn't know until we arrived in San Francisco that General MacArthur had us sent to Hollandia New Guinea. General MacArthur ordered the S.S. Lurline to proceed to Hollandia and pick us up. (The Lurline was only a day out of Brisbane, Australia when she received the message). General MacArthur said that if it had not been for those men and ships of TAFFY 3, we could have lost Leyte if Admiral Kurita's large ships had gotten through. Also, there were Imperial Marines on the destroyers - that is why they had so many destroyers. The Japanese used them as transports all through the Solomon Islands campaign.

After a good month of Survivors leave at home with my lovely wife, I was transferred to Bremerton, Washington to an ammunition depot. Wherever I was stationed, it was great to be alive.

This is where I was discharged, after 5 years and 9 months.

I loved the Navy, so I enlisted in the Naval Reserves and transferred to the Construction Battalion (Sea Bees) - not giving the enemy a chance to sink another ship. I retired as a Senior Chief with 32 years.

By
Glenn H. Parkin
Senior CPO, Retired


MAJOR HISTORICAL EVENTS DURING WW II THAT WAS A PART OF THE CAREER OF GLENN H. PARKIN

* Pearl Harbor Attack (Dec. 7, 1941)
* Launching of planes from the Deck of USS HORNET for Dolittles Bombing Raid on Japan (1942) * Battle of Midway - Many Naval Historians claim this was the turning point of the war (1942)

* Battle of Savo Island (Solomons) (1942)

* Battle Off Samar (October 25, 1944) Naval Historians have acclaimed this to be the Greatest Naval Battle ever fought.

In addition to the above Major events, Glenn participated in many other battles of the Pacific Ocean Campaign and was a survivor of two ship sinkiings, The cruiser, USS NORTHAMPTON and destroyer, USS HOEL.

SPECIAL NOTE:

If you have been impressed by the experiencies of Glenn H. Parkin and would like to contact him, you may do so at:

Glenn H. Parkin
246 North Oak Drive
N. Salt Lake, UT 84054-3103

(801) 292-2075